2016 RAM 2500 Promaster
Inventory
Get Financing
Service
Find Parts
Contact Us
New 2016 RAM 2500 Promaster at Browning Dodge Chrysler Jeep Ram for Chino, CA
The 2016 RAM ProMaster 2500 comes ready to work.  This vehicle continues RAM's commitment to commercial function and has used input obtained by customers to drive implementation of new features. The vehicle offers an overall impressive interior and a smooth riding experience.  The brand is keeping good momentum with new models with a high level of workmanship and refinement. The 2016 Ram ProMaster series now adds side window availability to the 159-inch, high roof, extended configuration. Ram ProMaster delivers with a chrome grille option. Ram ProMaster answers with provisions for a second battery at the rear of the cab and new 20-amp auxiliary switches easily accessible on the dash panel.  ProMaster boasts numerous best-in-class features, which are appreciated by the hardworking customers of Ram's full-size van. Best-in-class fuel efficiency, usability and impressive total cost of ownership all combine to deliver a proven solution for businesses and fleets. The 2016 RAM ProMaster now adds side window possibilities, a chrome grille option, a second on board battery and amp auxiliary switches. ProMaster has many best-in-class awards including fuel efficiency, usability and value.  The ProMaster delivers the answer for fleets and businesses.  The 2500 offering come in the following:  ProMaster 2500 Cargo Van 136-inch wheelbase high roof, ProMaster 2500 Cargo Van 159-inch wheelbase high roof, ProMaster 2500 Window Van 159-inch wheelbase high roof, ProMaster 2500 Chassis Cab 136-inch wheelbase, ProMaster 2500 Chassis Cab Cutaway 136-inch wheelbase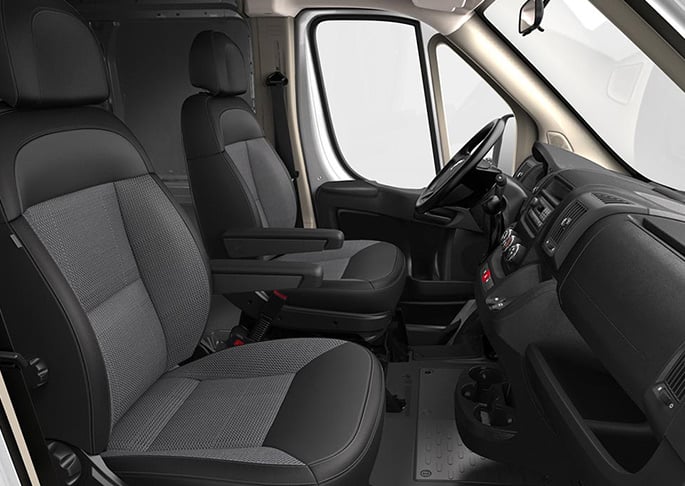 Under the 2500 Promaster's Hood
The 2016 Ram ProMaster 2500 power-train lineup has the award-winning 3.6-liter Pentastar V-6 and a 3.0-liter EcoDiesel I-4 engine. The engines are paired, respectively, with a proven six-speed automatic transmission. ProMaster also offers a best-in-class power-train warranty, 5 year/100,000 miles on diesel engines and unsurpassed 5 year/60,000 miles on gas engines.  The EcoDiesel offering is a 3.0-liter inline four cylinder providing 174-horsepower and 295 lb.-ft. of torque.  The engine has very good emission and turbo controls.  It also has an oil level sensor helping the best-in-class oil change of up to 18,500 miles.  ProMaster boasts an impressive best-in-class payload capacity up to 5,160 pounds and a maximum towing capacity up to 5,100 pounds.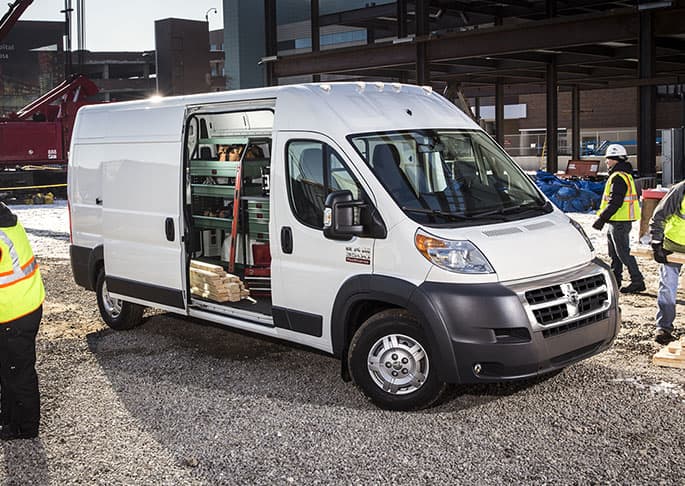 Design of RAM 2500 Promaster
The ProMaster is a cab forward design pushing the nose inward and the headlights up.  Because of this the seating is higher up allowing for more visibility and a more secure vantage point to operate the vehicle from. The front of the ProMaster is recognized by body-lines, a wraparound bumper and twin-headlight clusters. True to the Ram Truck brand there is a stylish hexagon-shaped cross-hair grille featuring the Ram's head logo proudly displayed as the focal point of the cross-hair.  The ProMaster comes chock full of comforts, ergonomic designs and much more.  Some features are an adjustable steering wheel and the driver's seat can also come with suspension that modulates based on the weight of the driver. There also can be swivel seats for the front row allowing for ease in entering and exiting. Passenger seat can either be benches or single units.  If there are benches in the front seat than three people can comfortably sit there. The ProMaster has the ability to transport cargo with the ability to tie restraints down to the floor and 1,000-lb. rating.  There is also tie down rings on the interior side walls and partitions are available to separate occupants from cargo and any potential shift while riding.  The exterior also offers plenty of space so that companies can attach signs and graphics for advertising as a mobile billboard.
Where is Browning Chrysler Dodge Jeep RAM located?
We are located at 1983 Hamner Ave Norco, CA 92860 Click for Directions
Can you help me finance my 2016 RAM 2500 Promaster?
Yes we would love to help you find financing! Please check out our Finance Center! Click for Finance Center
Can I have my vehicle serviced at your dealership?
Yes we are a mopar affiliated dealership and we can service all of your car's needs. Click to Schedule Service
Conclusions
Ram ProMaster 2500 offers more than 35 safety features such as trailer-sway control, ParkView rear backup camera and ParkSense rear park assist with audible warning, all of which are useful when maneuvering a large van.  Safety and security were two of the guiding principles followed by engineers throughout the development of the Ram ProMaster.  RAM will continue on the path of having a large presence in the commercial vehicle industry and remain dedicated to offering the best trucks for commercial use.  Stop in or give us a call. We can be reached at 888-376-3498.
Read Our Other Reviews
2016 RAM 1500
2016 Jeep Patriot
2015 Chrysler 200